Yasmine Omari is a Palestinian-American photographer, arts administrator, community organizer and panelist on topics of arts and culture, collaborating with institutions such as Tennessee Arts Commission, GPAC, Young Arts Patrons, Indie Memphis, Crosstown Arts, Germantown International Festival, New Memphis Institute and more.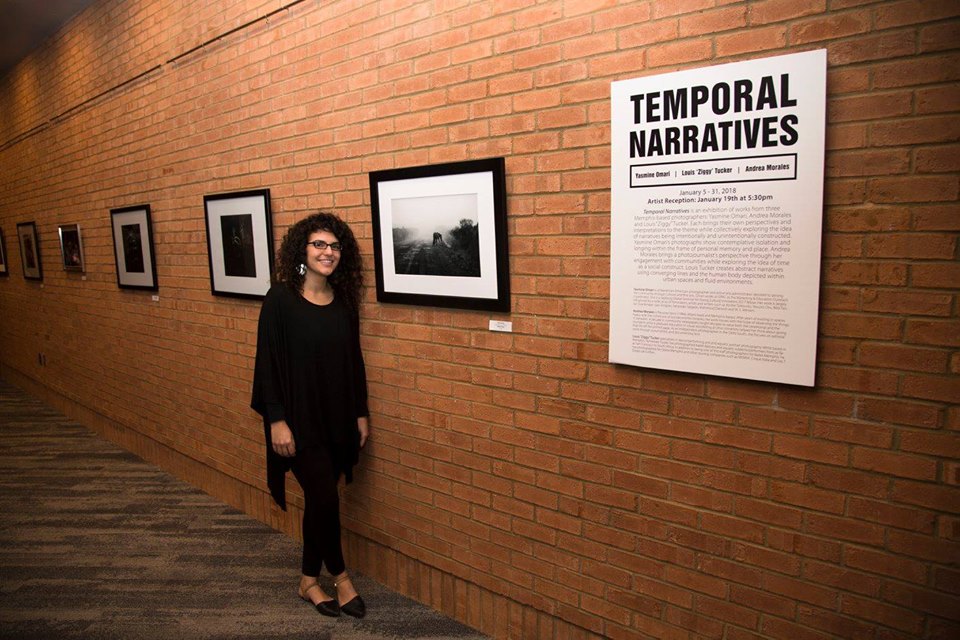 Yasmine Omari is devoted to serving the community through cultural arts, educational programs and mentoring, and is very involved in promoting, creating, volunteering and participating in events featuring arts and culture. While at the Germantown Performing Arts Center (GPAC) as the Marketing & Education Outreach Coordinator. At GPAC, she worked with the Programming Manager to develop a program that focuses on early learning of music and the arts for children in underserved schools. Yasmine was one of the main organizers and creators of the Memphis Palestine Festival. Her duties included planning, fundraising, promoting, all digital and print content, hosting and managing the festival. She volunteers with Germantown International Festival, New Memphis Institute, Indie Memphis Film Festival, Arts Memphis and much more. Yasmine is the founder and director of International Memphis which serves to activate and connect international in Memphis and to promote cultural events going on in the city. She also served on the Arts and Immigration Panel discussion for Crosstown Arts and Indie Memphis. Yasmine served as a panelist for the Arts Education Community Learning Grant and the Traditional Arts Apprenticeship Program for the Tennessee Arts Commission. This involves reviewing grants and helping decide which non-profits/individuals from the state of Tennessee will receive funding. She currently serves on the board for the Young Arts Patrons. Recently, Yasmine was awarded a scholarship from the Kresge Foundation to attend the Salzburg Global Seminar for Young Cultural Innovators. It is an annual series of Salzburg Global Seminar that brings together fifty of the world's most talented young innovators from the culture and arts sector at Schloss Leopoldskron to help them develop the dynamic vision, entrepreneurial skills, and global networks needed to allow them, their organizations, their causes and their communities to thrive in new ways. 

Photo by Andrea Morales                                                                                            Photo by Ziggy Tucker
Photography and Artist Work
Solo exhibition at St. Jude - ALSAC for Arab American Month | April 2018
Resident Photographer for the Germantown Performing Arts Center | September 2013 - June 2018
GPAC "Temporal Narratives" Group Photography Exhibition (organizer, curator & artist) | January 2018
Crosstown Arts "Response II" Group Exhibition in Memphis, TN | December 2017
Videography contributor to the Crosstown Arts/Crosstown Development Documentary | September 2017
United Way of the Midsouth "Photomentary" Project | August 2017
Crosstown Arts "Another Life" – Group Photography Exhibition | October 2015
Finalist for ArtsAccelerator - Arts Memphis Individual Artist Grant | October 2014
Annual "Fest of All" with Graffiti Light Project in Fayetteville, AR | September 2012
   −Displayed photos and taught light painting techniques to children and adults 
Finalist in 31st Annual Student Photography Contest for Photographer's Forum Magazine
Published in the Best of College Photography 2011
Featured Emerging Artist in Art Amiss 14 Visuals in Fayetteville, AR | August 2011
    −Displayed 5 photographs in this gallery in Teatro Scarpino   
SPE (Society for Photographic Education) SC Regional Conference | October 2010
    −Photo selected and featured in "SCSPE Members and Student Exhibits" in Fayetteville Underground 
    −Volunteered and attended lectures at this conference featuring Danny Lyon
Haiti Relief Art Auction at Speakeasy in Fayetteville, AR | January 2010
    −Donated 2 photos to raise money for Haiti Relief
Photojournalist for University of Arkansas Yearbook | August 2007 - December 2010
    −Over 70 photos published in the award-winning yearbook
    −Photo published as cover photo for yearbook in 2008
    −Photos featured on yearbook website's "photo of the week" 
Annual SASA Fall Photography Contest Winner – First Place | November 2010
UP (University Programs) Award Winner for photography – First Place | 2009 & 2010

email: omariyasmine@gmail.com
All images on this site are under Copyright ©Yasmine Omari 2018.